Meet Anastasia: Herbalist Extraordinaire Crafting Exquisite Herbal Tea Blends
Hello, I'm Anastasia, the founder of Sacred Herbs. I curate exquisite herbal tea blends and offer valuable herbal consultation services.
At Sacred Herbs, we aim to inspire daily herbal embrace. We craft flavorful blends and educate on proper herbal use for natural well-being.
Our lives follow a rhythm: awakening, meals, work, rest. With daily chances to nourish, minor shifts bring major benefits. A soothing herbal blend before bed or an energizing adaptogen instead of coffee can uplift mood and life quality.
Success blooms from daily herbal habits. Incorporating herbs is a manageable yet impactful shift for health and happiness. Join us at Sacred Herbs for herbal tea, herbalist services, and herbal medicine like Ayurveda, guiding you to vitality and balance.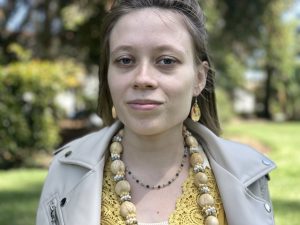 My journey into clinical herbalism sparked from a fascination with herbal remedies. Discovering intricate rules for herb combinations, I crafted my first blend, and to my amazement, the pain disappeared. Enrolling in a 9-month clinical herbalism course.
After completing the course, I began educating friends and sharing my passion. I organized workshops on herbal tea mixing, online streams discussing herb benefits, and tea ceremonies. Currently, as I pursue a master herbalist certificate online at the Herbal Academy, my goal is to create diverse herbal tea collections and introduce herbal blends to as many as possible
Anastasia's Passion: Harnessing the Potency of Herbs
On my Instagram page, I consistently share educational posts about various herbs, their benefits, and how they can be used to promote overall health and wellness. As a passionate herbalist, I aim to empower individuals to explore the world of herbal medicine and discover the incredible potential of natural remedies. Whether you're searching for a "herbalist near me" or seeking insights into "herbal medicine," my posts are here to guide and inspire you on your wellness journey.